OWN A GOAT BUSINESS
@
IRB HECTARE BY HECTARE FARM ESTATE,
AGBALA IMO-STATE
***** Single-Digit Interest Loan Available *****
***** Loan Repayment tied to proceeds of the Farm/Farms *****
With very low equity contribution per farm lot, you can invest and stay in the comfort of your home/office and let our technical team and resident farmers farm and manage your farm/farms for you
PROJECT OVERVIEW
IRB AGRO entered into a development agreement with Adasomi Development Company for the development of its Land
under the Hectare by Hectare programme.
Pursuant to the development agreement, Adasomi has planned the land into a farm estate comprising of 84 farm plots of 2500 m2 each. Each Farm plot is made up of 24 farm lots and a grass farm. See attached floor plan.
The project proposes to provide onsite infrastructure to support animal husbandry.
TERMS AND CONDITIONS
Number of lots per plot – 24
Number of goats per lot – 10
A proxy farmer shall upon expression of interest receive a formal offer letter for his/her interest.
Upon receipt of a formal offer letter, the proxy farmer is required to deposit the total amount in his/her name as contained in the schedule of fees with our escrow partner UBA PLC, in an interest yielding account.
A proxy farmer shall be entitled to 70% of gross quarterly profit on each of his/her farm lot.
Resident farmers shall be employed to provide farming services for all the farms within the estate as well as supervising farm laborers that would be employed for the maintenance of each farm.
Upon the request of any proxy farmer, Adasomi shall provide Inter-mediation services for processing of Agric Loan to enable him/her to pay the fees contained in the schedule.
Subject to other terms and conditions, net interest payable on the loan shall not be more than 9%per annual.
VERY IMPORTANT NOTES
At the discretion of the proxy farmer, each of the goats could be pre-sold to a primary off-taker or could be delivered to him/her, sold to a secondary off-taker/end user or alternatively At the discretion of the proxy farmer, each of the goats could be pre-sold to a primary off-taker or could be delivered to him/her, sold to a secondary off-taker/end user or alternatively processed and preserved for him/her at the storage facility within the farm estate.

Where the goats are processed and preserved in the storage facility, the proxy farmer shall receive Adasomi Warehouse Voucher detailing the value of his/her stock in the storage facility.

The proxy farmer could from time to time trade on these voucher to enable him/her unlock value of his/her stock stored in the facility.

Where the goats are pre-sold to a primary off-taker, he/she is given a warehouse voucher to secure his/her interest in the goats.

Primary off-taker could also sell his/her interest in the warehouse voucher.
SCHEDULE OF FEES PAYABLE FOR BREEDING STOCK OF 10 GOATS
Deposit for farming right
This deposit in addition to 5% gross yearly income from each lot shall constitute the entire fee for a 15years farming right to be granted to each proxy farmer.
25,000
Legal fee
10,000
Agency fee
35,000
Infrastructure fee for 12months
36,000
Cost of 10 goats
200,000
Cost of drugs for 12months
4,000
Cost of supplement for 12months
2,000
Cost of Ear Tag / record book / board
4,000
Livestock insurance, burglary and (fire/special perils, special perils, burglary)
20,455
Training fee for resident farmers for 3months
4,000
Cost of feed for 12months
80,300
Vet doctor's fee for 12months
6,000
Consultants fee for 12months
12,000
Cost of labour for 12months
42,000
Service charge for 12months
20,000
Management fee for 12months
48,000
Total Amount
N 558,755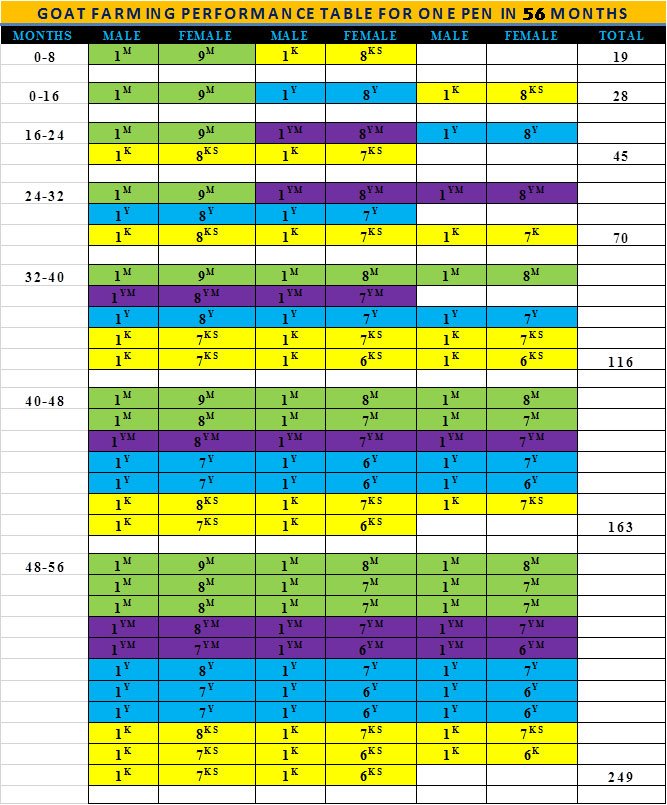 NOTES AND ASSUMPTIONS
All allocations shall be on a first come, first served basis.
Where an applicant fails to get an allocation of farm/farms, his/her application fee shall be refunded.
0-3 months is the weaning period of a new born goat, while from 3-8 months is the growing stage of a goat.
From 8-11 months, a young mature female will conceive if crossed with an active male goat of same age or older.
11-16 months (5months) is the gestation period goat, of a typical hence, it will naturally litter at the 16th month.
Only young mature Goats and fully mature Goats can litter.
There will be an average of one female goat per litter. However where there is a shortfall, a female goat shall be sourced from the market to maintain status- quo at all times.
Off-springs shall be insured immediately they are littered.
The premium for insurance of any off-spring shall be on account of the respective proxy farmer.
In line with our corporate policy, matured goats shall periodically be transferred to new pens, sold or delivered to any address within the country on behalf of the proxy farmer.
Upon the sale of goats, net income due to a proxy farmer shall be determined after all legitimate deductions are made.
NOTE: Driven by the Hectare by Hectare BUY AND GET PAID Reward initiative, the numerous members of Hectare by Hectare premium (consumers) Cooperative Societies; constitute the bulk of the secondary off-takers/end users.
Interested? Click Here to Express your Interest