TALK IS CHEAP – LET'S ALL GET INVOLVED AND CHANGE THE NIGERIAN POLITICAL LANDSCAPE – ADOPT, GROOM AND SUPPORT AT LEAST ONE YOUNG POLITICIAN IN YOUR WARD AND THE COUNTRY SHALL NEVER BE THE SAME AGAIN.
STAND AND BE COUNTED!!
This is an initiative designed to encourage Non-partisan Professionals, Business men and Civil servants to indirectly participate effectively in the leadership selection process within the National political space.
           OBJECTIVES OF THE INITIATIVE       
i. To create a level playing ground for political aspirants.
ii. To reduce to the barest minimum incidents of Godfatherism and hijack of the political process by a few individuals.
iii. To improve the leadership selection process.
HOW TO ADOPT A POLITICIAN
Choose a person within your ward

Educate him/her to know the following:
A.That non-participation of many citizens is the reason why the political parties are hijacked by a few individuals.
B.That the hijack of the political parties by a few individuals affects the leadership recruitment process negatively.
C. That participation by more individuals will reduce the powers of the God fathers.
D.That the poor leadership recruitment process encourages mediocrity.
E,That mediocrity promotes poor governance.
F.That poor governance promotes poverty, unemployment, insecurity, disunity, ignorance, religious intolerance, lack of infrastructure, food insufficiency, lack of power, collapse of Education sector, etc
Encourage him/her to register as a member of any political party of his/her choice at his/her ward.
Assure the person that you will always support him/her to pay membership dues and even support him/her to host ward meetings as a way of boosting his/her relevance within the party.
Encourage him/her to attend meetings regularly and make meaningful contributions.
Encourage him/her to study the constitution of the party and all its bye laws.
Encourage him/her to be courageous and not allow any person to take any decisions without following due process.
Encourage him/her to be selfless.
ADAPIN is powered by Lawquest Foundation in pursuit of general public awareness.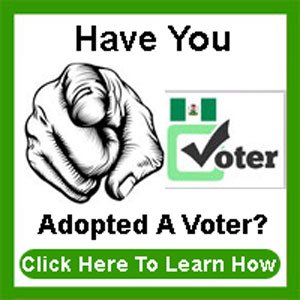 Hits: 250